Third time is the charm, no?
Sooooo....yup, frogged it AGAIN last night and immediately cast on because I knew that if I didn't, this project may end up on the back burner and I didn't really want that to happen.
Will I ever learn to NOT knit when I'm tired? Obviously hasn't happened yet. Mom always said I was stubborn....yep, but I prefer tenacious or determined :)
I'm making mine out of Plymouth's Stone Cotton in black which I got at Elann's on a great sale. The trim will be in Tahki's Old "New Tweed" in blue #020. I say old "new Tweed" because Tahki changed the fiber content a bit and will reintroduce the line in the Spring.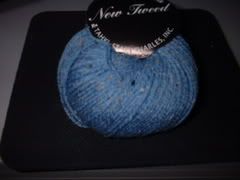 Here is a swatch of the sleeve eyelet pattern...